What I'm Reading: "Bona to vada your dolly old eke!"

Paul Baker: FABULOSA
Paul Baker's study of Polari, the "secret gay language", wears its intensive research lightly, rarely lapsing into tedium and mostly highly entertaining – altogether totally bona, you might say.
"When you learned Polari, you weren't just learning the words but the attitude that went with them," Baker tells us. He trawls (no, not 'trolls'!) through Polari's rich ancestry dating back to Victorian and Edwardian times, a cocktail of medieval criminal slang, Romany, Latin crossed with Italian, back-slang ('riah' = 'hair' backwards) and Cockney or 'Mockney' used or invented by Merchant Navy gays ('sea-queens'). The author mentions Crystal Spring – I wonder if that's the same Crystal whom I trained at a BT Continental call-centre in the 1960s: she had a wondrous command of Polari.
Polari had a heyday in the 1950s when the odd word dropped into a conversation leaked the fact that you were a fellow traveller; drag-queens overused it as a kind of flag-waving. Julian and 'my friend Sandy' introduced it to the wider world on BBC Radio in Round the Horne in the late 1960s, but after Decriminalization in 1967 and the growth of Gay Liberation Polari came to be seen as "a toxic relic of a time that everyone wanted to forget." Even camp was viewed as regressive; John Inman and Quentin Crisp were pilloried for their mincing limp-wristedness. Imported from the US, the 'clone' look created a more manly brand imagine for gay men around the world.
Homophobia hasn't been totally eradicated in the West today, but most us are freely 'out' and 'Proud'. I wonder how gay men and women secretly communicate their identity in ultra-repressive countries like Uganda and Iran. In Iran homosexuals are not hanged, they're strangled, hauled off the ground by a crane with a rope round their neck. If they have a secret language, let's keep it secret.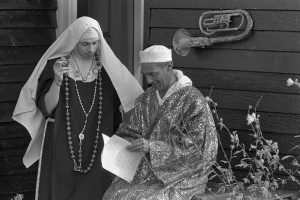 On our cosier shores, camp is still fluttering in the new millennium thanks to RuPaul and his drag-queen cohorts and – God bless 'em – the Sisters of Perpetual Indulgence whose 'unholy order' has outlived some of Rome's originals! And a few Polari words have entered the general vocabulary: 'naff', 'trade', 'butch'. Maybe now, Paul Baker argues, Polari can be recognized as part of the wider History of the Gay Movement, from a time when its use was a kind of defiance. From defiant to dated but not (quite) to defunct.
According to Paul Baker, in the 1960s you could be a 'chicken' up to the age of 25, but after that you were old. That was my judgmental mindset in the 1960s, in Earls Court: "Oh God, there's Grandma" ('Grandma' might be in his thirties or forties). No change there today, I'm pretty sure. Sorry, girls!