THE BEXHILL MISSILE CRISIS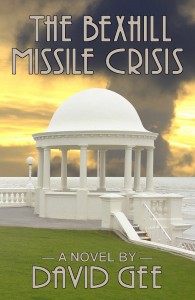 * * * * *
'If only, Evelyn would think later: if only there hadn't been the bother in Cuba; if only she hadn't knocked the Horseman of the Apocalypse and his friend off their motorbike: the week might have turned out very differently.'
"One of these books that you can't just put down – interesting characters and plot twists to get you going." Amazon review
* * * * *
October, 1962. The world goes to the brink. Not only in Cuba.
As US warships set sail to establish President Kennedy's Cuban 'blockade', Londoners Andrew and Evelyn motor down to the Sussex coast. At a country crossroads their car collides with a motorcycle ridden by the sinister Pilgrim.
Evelyn is the wife of a Bond Street jeweller; she knows what an orgasm is but hasn't had one. Andrew is a graphic artist and womaniser, haunted by his gay past. Laurence, their host in Bexhill, is an ex-lover of Andrew's; his teenage daughter Sarah is impatient to lose her virginity.
While Kennedy and Krushchev nudge the world towards a nuclear precipice, Pilgrim drives these middle-class misfits to a brink of their own. Their cosy Terence Rattigan lives get a Joe Orton makeover in this dark comedy-of-manners with a gothic twist.
'Sexual intercourse began in 1962,' says DAVID GEE. 'Philip Larkin was out by one year. Anyone who was alive at the time of the Cuban Crisis will remember the feeling that with the world on the brink of thermonuclear extinction, there might only be time for one last fling. The four people in THE BEXHILL MISSILE CRISIS don't choose the wrong partner for this fateful fling; he chooses them'.
FOLLOW THE LINK  IN THE BANNER TO READ THE OPENING CHAPTER
Click Here to Buy:
(only available as an e-book)
* * * * * *