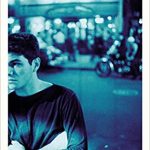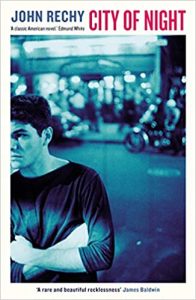 John Rechy:
CITY OF NIGHT
Resuming my trawl through yesteryear gay fiction with this 'classic' from 1963, John Rechy's chronicle – which we assume to be autobiographical – of a few months in the life of a nameless hustler haunting the cruising zones of New York, Los Angeles, San Francisco, Chicago and Mardi Gras New Orleans. It seems a bit dated today, but it's one of the seminal books in the literary gay canon.
Rechy sets the tone on the opening page: "One-night sex and cigarette smoke and rooms squashed in by loneliness." Every other chapter explores the life and mindset of a fellow hustler or one of the punters ("scores"), those men who are part predator and part prey. There is some humour, especially in the full-on Attitude of the camper gays and drag queens – the most extravagant of these are Miss Destiny, the self-crowned Queen of L.A.'s Pershing Square, and Chi-Chi, a mixed-up Muscle Mary in New Orleans. But for the most part the tone is unremittingly bleak. Sylvia, the bar-owner haunted by a guilty secret, is given more depth than many of the scores.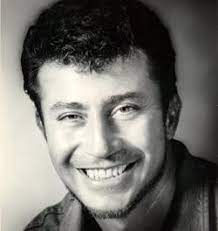 John Rechy
The narrator portrays himself as the macho street kid who's only doing it for money but occasionally, with another hustler or one of the scores, he almost feels the tug of involvement. But that tug has to be resisted, because it would undermine his conviction that he isn't really a fag. These are some of the book's most revealing scenes. He never admits to love and only rarely to desire. Desperation is what drives the denizens of the Cities of Night onto "the lonely, crowded, electric streets."
John Rechy creates a syntax of his own, routinely omitting the apostrophes in words like "isnt" and "dont". Fragmented paragraphs bristle with dashes and ellipses (…). Past and present tenses are randomly mixed. He sandwiches words together to create a vivid new vocabulary: "nightworld", "malehustler", "sexhungry". The hallucinatory writing recalls Jack Kerouac and William Burroughs, so much so that I wonder if either of them contributed to the edit. The fractured narrative becomes repetitive, but there's no denying the powerful impact of this nightmarish journey through the Gay Underworld. "We're trying to swim in a river made for drowning."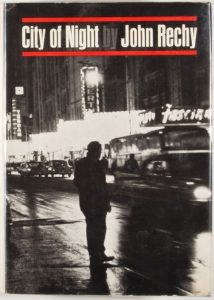 the original 1960s cover
This is not an erotic novel. The sex between hustler and score is rarely described and never detailed. Rechy's second novel – Numbers – and its successors were a lot more explicit, and he abandoned the zonked-out Beat-poetry style for the pared-down prose of Harold Robbins or Mickey Spillane.
Reading City of Night in the 1960s, it seemed exotically different and daring. London's gay scene was a pale echo of New York's; Piccadilly and Leicester Square never quite had the lurid tawdriness of 42nd Street or Times Square. A few pages from the end Rechy seems to foresee the rich harvest the Grim Reaper will gather from this relentlessly promiscuous community two decades later: "death lurking prematurely in a threatening black-out". In 1963 John Rechy was a kind of "Pied Piper" figure, and as we know, the Piper – one way or another – has to be paid.