David at the Movies: I hated this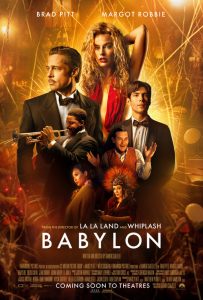 In the opening scene of Babylon an elephant on a pick-up empties its bowels over one of its handlers. This, I'm sorry to say, sets the tone for much of what follows. This is a long movie – three hours, much of which is crap.
Writer/director Damien Chazelle, who gave us La La Land a few years ago, turns the clock back to the 1920s when "Hollywoodland" was transitioning from silent pictures to sound. Brad Pitt and Margot Robbie play two leading actors who flounder during this period of adjustment, cast in a series of tawdry flops. Diego Calva and Jovan Adepo play a Mexican production assistant and a jazz trumpeter whose careers briefly flare. All four stars make the best of their roles despite the chaotic screenplay. Robbie's damaged character, a stock favourite, fuelled by addiction to cocaine and gambling, is overdone and risks losing the viewer's sympathy.
Orgiastic parties and a weird scene in a mountain torture palace presided over by Tobey Maguire in overdrive bring echoes of historic Babylon and some of the weirder extremes of early Hollywood. And there are many references to Singing in the Rain, that gem of a film set in the same era as this mash-up – one of the all-time greatest movies. With its messy script, erratic direction and uneven editing, Babylon is in an altogether different league. I can't think of a picture I've hated as much as this. Sorry!