David at the movies: The Exorcist – and Dracula – revisited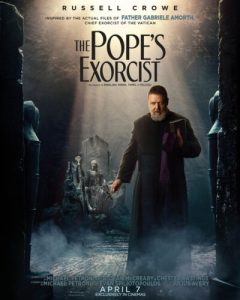 THE POPE'S EXORCIST
This is a lot less schlocky than I expected. Father Gabriele, the priest played by Russell Crowe, is based on a real Vatican cleric who carried out many exorcisms in a long career. The demonic possession we see here, a small boy in Spain, brings unavoidable echoes of Linda Blair's Regan in the 1973 movie. The demon speaks in a guttural voice. The boy levitates and also hurls people across the room by pure mental power. Writing appears on his skin.
But despite the recycling there are many genuinely goose-bumpy moments. The boy (Peter DeSouza-Feighoney) is believably desperate. Russell Crowe and his young sidekick (Daniel Zovatto) give measured performances, not too shouty. Franco Nero as the Pope is still a commanding screen presence at 81.
The last quarter of the film goes into CGI overdrive, bringing The Mummy remakes to mind, but even if the ground is a bit familiar, this is an exciting and entertaining way to revisit it.
RENFIELD
This is a lot more schlocky than I expected: another entry for the Worst Movie of the Year. Count Dracula and his 'familiar' Renfield (Nicholas Hoult) are in modern-day New Orleans, embroiled in a war between a drug baroness and the one honest (female) cop in a mega-corrupt police precinct. Huge liberties are taken with the vampire mythology. Renfield not only eats insects but gets super-hero powers from small doses of Dracula's blood.
Nicolas Cage's Count has teeth like a barracuda and is played in camp overdrive. His main role – and Renfield's – is to tear limbs and heads off people in a succession of fight scenes that belong in a kung-fu movie.
There's a long history of vampire movies that messed with the legend or fell wide of the mark (Blacula and its sequel spring quickly to mind – they wouldn't be made today, would they?), but Renfield takes the biscuit. It's meant to be a spoof, which I think was most brilliantly brought off by Roman Polanski's sublimely comic Dance of the Vampires (1967).
Renfield is woeful, dire. Nul points!