Category:
DavidGeeBlog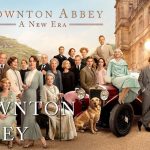 DOWNTON ABBEY: A new era
Another episode in the upstairs/downstairs soap-opera life of the Crawley family, their heirs, their spouses and their friends – and, especially cherished, their servants.
We've moved on a year or so from last episode. Tom Branson has married Lucy, Imelda Staunton's heiress daughter. Lady Mary's car-crazy husband is away on a rally, leaving her to develop a crush on the director (Hugh Dancy looking cuter and less fraught than he was in Hannibal) who's filming a historical (almost hysterical) movie at Downton (the fee will restore the leaky roof). Mary will also have a key role when the movie goes from Silent to Talkie. The film crew brings new romance into the life of Barrow, the gay butler in a very anti-gay era.
His lordship and most of the family decamp to a gorgeous villa in the South of France which Violet, the Dowager Duchess (Maggie Smith in her usual Lady Bracknell form) has inherited from an old flame. The French scenes are very Scott Fitzgerald (minus the sex), and the Downton film invasion brings strong echoes of other movies about movie-makers.
How wonderfully all the cast slip back into their familiar (and much-loved) roles after a gap of two years or more. Dame Maggie, of course, dominates her every scene. Hugh Bonneville is given reasons to cry and he does tearful as believably as he does starchy. Mary and Edith are adorable as always. Mr Molesley gets to save another day.
Plenty of people pooh-pooh Downton and its fans. I don't watch any of the British or Aussie soaps, but I wouldn't miss an instalment of this. There's talk of a third movie. Bring it on!